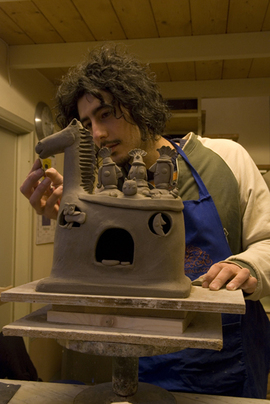 Michele Fabbricatore
-Ceramiche d'arte-
In my work I join everything I like and feel passion for: from Calvino to "Orlando Furioso" ("The Frenzy of Orlando"), to mythological tales, all this interpreted and rewiewed with an ironic and surreal eye.
My mission is to take the most authentic and untouched part of myself, the one of the child, with no influences or schemes, the one that looks at the world with a dazed and amazed eye. To revive the gift of enchantment that's is the base to beauty.
Feeding this treasure we all share inside is a desire and a task for my life and I hope my work will always transfer this value to others.
I work with

Le sorelle

since

many years

and

our working relationship

in recent times

have been intensified

to give light to

major new

projects.